I recently won China Glaze's Seasonal Sparkles set in a giveaway. I was so excited to receive this, and it did not disappoint! I was mainly anticipating Twinkle Lights, but Poinsettia and Holly-Day exceeded my expectations.
Poinsettia is a true red creme/jelly. Don't ask me how...when you are applying it, it seems like a jelly, going on semi-sheer, but build-able. It took me three coats to get it opaque. It's not a jelly, though. And it dries super shiny and has that 'juicy' appearance that a jelly does. Whatever is going on there, I love, and I have a new found favorite red polish!
Holly-Day is a great green creme polish. This looks just like the color a Christmas tree would be. Gorgeous. This was a two coater, but I did three just because I always do three coats. I was never really a fan of green polish, either, but this is really a nice looking color.
And Twinkle Lights...Ahhh...The beauty of a Christmas glitter sparkle bomb all over the nail. I know that people are going crazy for this as a layering polish, but I don't like it over other colors. I think it takes away from the stunning-ness of it. Whatever color you put it over, it seems to lose a lot of that glitter. I put it over OPI's Alpine Snow, as well, and I liked that the best, but still felt like maybe there should be more red and green glitter in it. But, I LOVE this polish on it's own. It's opaque in three coats and looks amazing!
I didn't have time to swatch these like I wanted, but here is my nail wheel: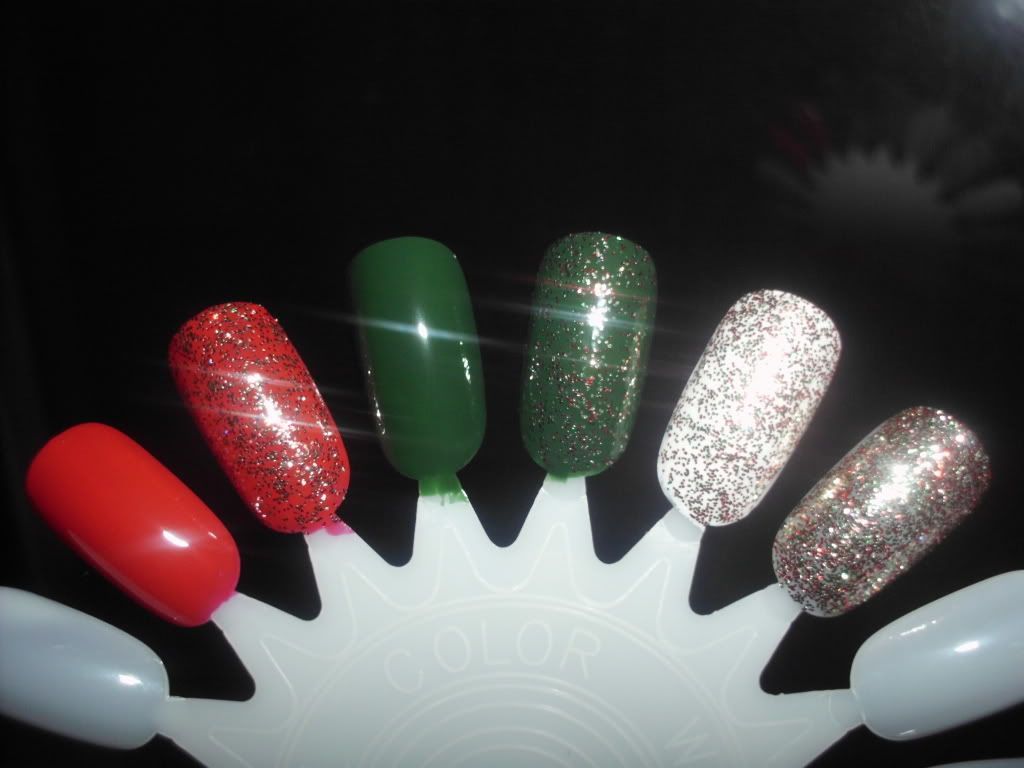 This was my first time using China Glaze (I am an OPI die hard), and I was genuinely surprised! The formula was great...Thinner than OPI, but very manageable, and getting used to the skinny brush was very easy considering how great the polish was to work with.Oh, and for some reason I always assumed OPI had a quicker drying time, but these CG's dried fast, too!