Boy, life is so busy right now. lol. Over the weekend, I had my daughter's birthday party and I spent the whole weekend getting ready for that, then having it, then cleaning up and putting away toys and all that. Now, I have finals this week. I am trying to keep up with blogging. Usually, I would schedule a bunch of posts, but I did that for the entire weekend and now I don't have time to do ones for this week. lol.
Anyways, I have already contacted and heard back from my 300 Follower giveaway winner, but I wanted to go ahead and announce it as well!!
Congrats to Nicole from
Nail Polish Wars
!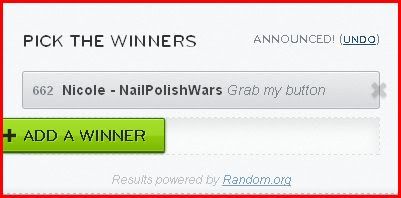 I will be mailing everyone's prizes (the Christmas Giveaway and 300 Follower) tomorrow.
Thanks to everyone who shared and entered my giveaways! Don't forget to enter my
400 follower giveaway
I have going on right now and it looks like another one (500 Followers??! OMG!) is right around the corner, yet again. Thanks so much!!