I didn't post a 'Weekly Winnings' last Sunday because I had only won one giveaway that week. I had just figured I would add it in with this weeks. Well, lo and behold I ended up winning a ton this week. haha. Yes, you can be jealous ;)
This is the one that I won last week. From
Alexandra RC
, a bottle of Sally Hansen Hidden Treasure and a bottle of Nubar Indigo Illusion. Both of these polishes are simply amazing, and I am so lucky to have won them :)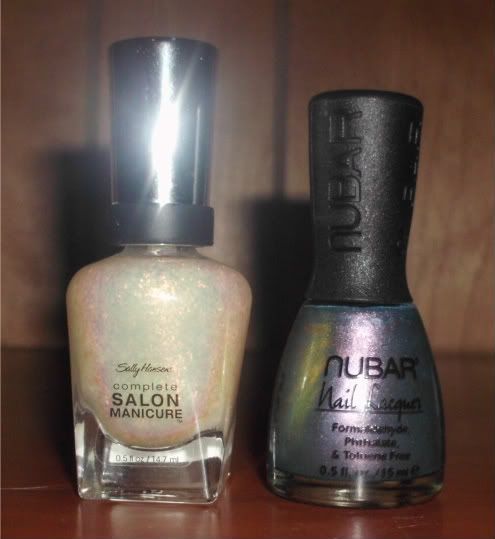 Speaking of lucky, could a polish win get any better than this?
Racel Marie
hosted a Birthday Blog Giveaway and I won all these goodies! ZOMG!! I seriously am going to have to make more room for polishes after this one! Hopefully I get my Christmas wish - a Helmer!!
Another polish win, I got a holiday set of Wet N Wild's from
Pink Dandy Chatter
.
On the same day, I won a mystery polish prize pack from
A Polished Life
. The anticipation is killing me and I can't wait to see what I get! lol. I will definitely let you all know!
Almost more exciting than polish (I said almost!), I won one month free at
CA Wine Club
from
Mom in Management
.
Could there really be more, you ask?? Oh yes, there is. A Gorton's prize pack from
Mizz Review Lady
that includes two coupons for free Gorton's products and also a plate. My daughter loves the Garlic & Herb Filets, so I am happy about this win! :)
I've won this prize before, but now I get one to keep in my car as well as in the kitchen. A bottle of Prefense Hand Sanitizer from
Momma's Money
.
Polish Vixen
had a 'Guess The Polish' post and I was the first to guess correctly!! I won a mini bottle of SpaRitual Rhythm of Life.
Whew! That's everything for this week. I have to say, it was a rather lucky week. I can only hope that next week has just as many goodies in store for me. I didn't end up getting the job that I interviewed for, so I still won't be able to buy anything new for myself anytime soon. I did ask for a Helmer for Christmas, though :)