I don't believe there is anyone out there that hasn't heard of
Julep
already. Although, if you are the last person on earth to hear,
Julep
is a monthly nail polish subscription service. ;) You go to their site, take a style profile quiz, and they match you with a profile that most fits the answers you chose. If you don't like the option you get, you can always retake the quiz until you get the one you like. Every month, for 19.99, you will get a box with 2 or 3 bottles of nail polish, samples, and usually one or two other things. In the past, there has been hand scrub, nail strips, and glitter pots, just to name a few.
Right now, you can join for just ONE PENNY! That's right. Once cent. Just enter the code
NEWYEAR2012
when you are joining. You are free to cancel at any time, or you have other options as well. You can put your membership on hold, or even send your box to a friend as a gift. Also, they will send you an e-mail before your box ships, and if you don't like the colors, you can always request a different box.
I received the January "It Girl" Box, and here is what I got.
First, if you have ever gotten a Julep box, you know that their packaging is too cute. The first one I ever received (back in August, I believe) came in a little bag like you had just went shopping. This one came in a box with the polish wrapped in plastic and bubble wrap, then tied with a ribbon. Very pretty!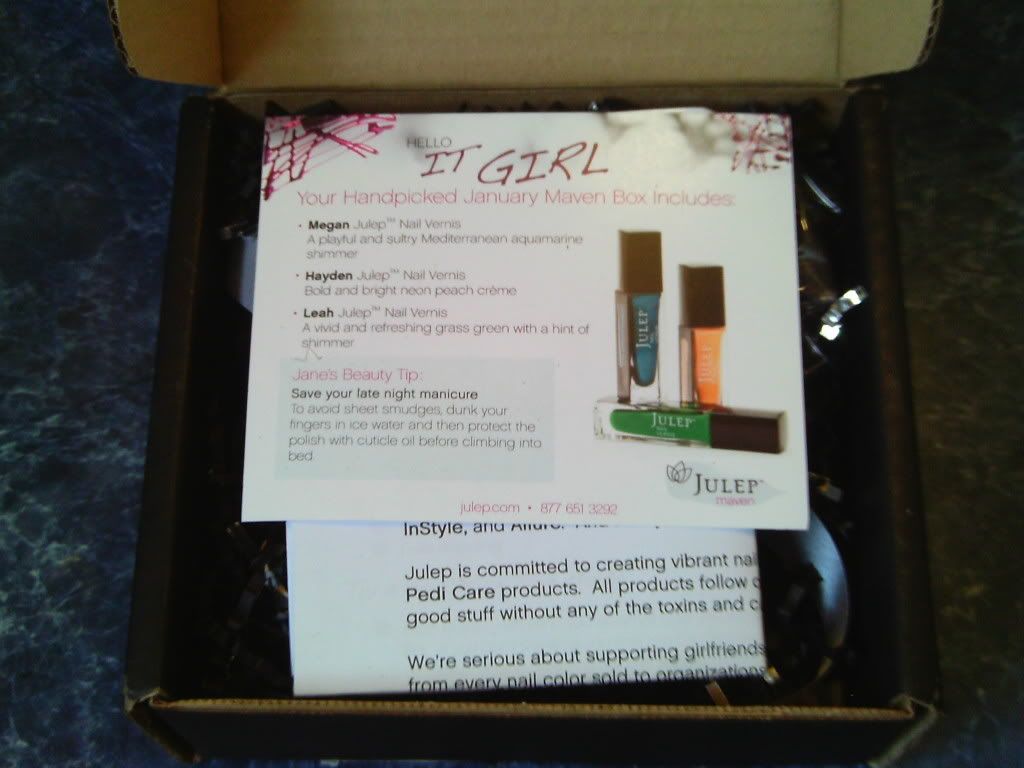 Once I opened the package, this is what was inside:
A polish remover pad, Megan, Hayden, and Leah. Three beautiful spring shades.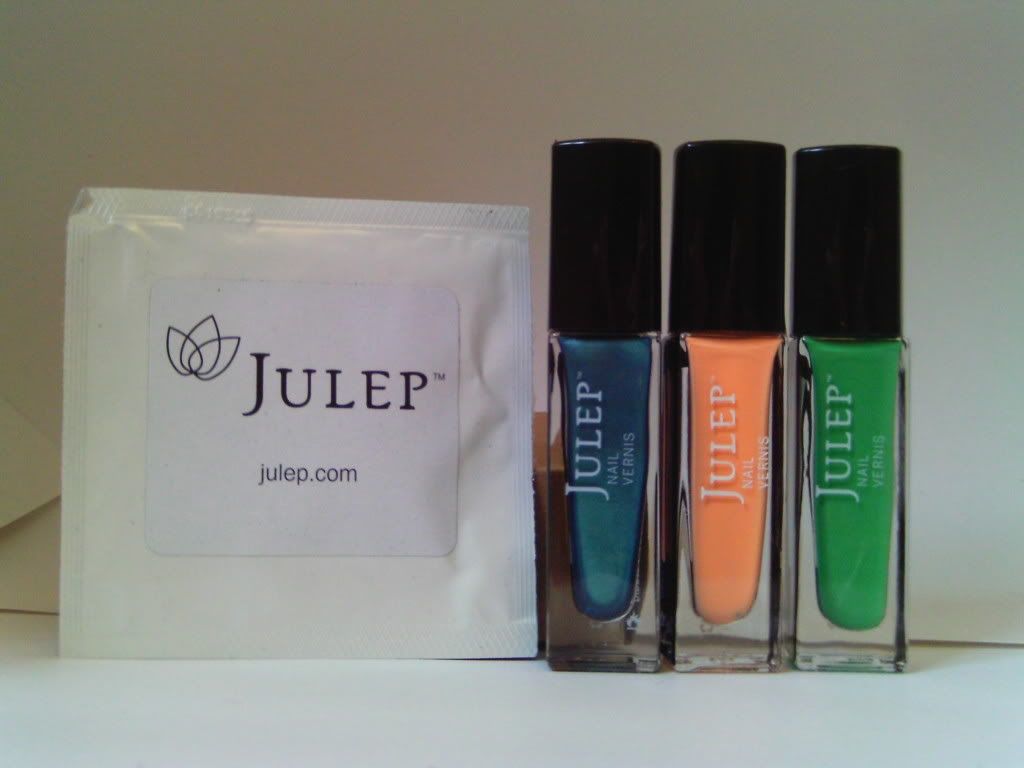 Hayden is a unique orange-y peach color. I definitely have nothing like this in my stash. The formula was one of Julep's thicker ones, but not hard to work with at all. This is two coats. I LOVE this color. I have some peachy colors, but they all lean very pink. Also, this is one of those colors that make light skin look darker, so I know I am going to be wearing this lots in the summer. This is a very bright color and would also look great as a pedi.
If you are looking for a true green, Leah is your polish. A solid, medium toned spring green. This polish was on the thinner side, which for whatever reason, I find Julep's thinner formulas much easier to work with. This was also two coats.
Last, but not least, Megan. A beautiful shimmery blue. The formula for this was also thin, but despite that, it was opaque in two coats.
I can say with 100 percent assurance that I will be wearing Hayden all the time this summer. While I love the other two colors, I find that I am not really drawn to wearing blues and greens on my nails. I usually grab for corals, greys, lilacs, reds, and pinks. I guess that may change as the weather gets nicer and I start feeling like putting more 'spring time' colors on my hands. I have been wearing Leah today and it is growing on me.
Julep is a fun program for you polish-a-holics like me! And for one penny to try, how can you say no?! You might as well say it's free!
Remember, use the code
NEWYEAR2012
to get your first box for just one cent!
Stay tuned for my February giveaway where you can win your own Julep Maven introductory box! :-D