If you haven't heard of Swagbucks, it's a simple rewards program that you earn points by doing basic online activities like searching, doing surveys, and watching videos. You can then redeem the points for many things, but the most popular is probably Amazon Gift Cards and Paypal cash. I just wanted to make a little post to help out those who were maybe overwhelmed when they first joined, just didn't get it, or haven't joined yet.
1.
Search
- Some people install the Swagbucks Toolbar, which also gets you points other ways, but I don't like clutter on my browser. I simply install the Swagbucks search plug-in, and it lets you search Swagbucks directly from the search bar already on your browser. When I am going to Facebook, I just type in Facebook in the search bar. Same thing for Blogger, Amazon, Google, whatever site I am going to. This gives me more opportunities for search points, as they are random, and I don't search THAT many different things a day. By doing this, I usually win points around 3 times a day, for give or take 25-30 points. That's anywhere from 9000-11000 points a year.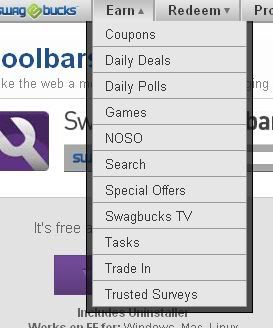 2.
Daily Polls -
Each day, they have a new poll up. Vote in it, and you earn 1 Swagbuck. It's not a huge amount, I know, but it adds up with all the other points you can earn in a day. 365 Points a year.
3.
NOSO -
This is another small daily point earning opportunity. View a few offers (I always click 'No' or 'Skip' on all of them) and get 2 Swagbucks. 730 points a year.
4.
Swag codes -
During the week, they usually put out a special 'Swag Code' that will get you anywhere from 5 - 10 Swagbucks. I believe if you have the toolbar, it will alert you when there is a new code. If not, just check the Swidget or usually people will let you know on the Swagbucks FB page when there is a code and when it expires. NOTE: Never share the actual swag code, only the location of it! 1300 - 2600 Points a year.

5.
Inbox -
Check your Swagbucks inbox! Everyday they will send a 'Watch and Earn' type reward worth 3 Swagbucks. You just have to watch a video on Swagbucks TV, click the ad at the beginning, then answer a quick yes or no question. They will also send random special offers, such as liking a FB page for a certain amount of points. 1100 Points a year.
6.
Twitter -
Everyday, they choose winners that have tweeted with the hash tag #Swagbucks to recieve 100 bonus points. They also have special events every Tuesday, during the holidays, and during Swagbucks promotions where you tweet a certain hash tag to try to score extra points. I have gotten this once, and I just tweet when I win points. A little box will pop up that says how many points you got and it has buttons to share on Twitter or FB. I just share on Twitter and put the hash tag in. It's not guaranteed points, but it only take a few extra seconds!
Those are the main ways that I earn my points on Swagbucks. Just with those basic methods, you can earn up to almost 15,000 points! That's not counting all the other ways you could be getting points, like surveys, special offers, and tasks, as well! Take a few minutes and familiarize yourself with their site and social networking pages, and I promise it will benefit your points greatly!! Nothing better than free money, right?!
If you have any other tips or questions, please leave a comment! I love hearing other people's take on things like this.