In my mind, I wanted to take beautiful swatch pictures of everything, but the days have been dreary and I seemingly forgot that my 40 dollar camera is a joke. Oh, I can't wait to get a nice camera with some better focusing and zooming technologies. Anyways, I still wanted to share my
Cherry Culture
experience and haul.
Let me start by saying, they have the worst customer service I have ever dealt with, hands down. I received a gift card via email from a giveaway on December 23rd. It was not activated. I emailed the girl that purchased the card, and she let me know that the charges had went through on her end. I tried emailing and calling Cherry Culture. Whenever I called, I was forwarded to a voice mail box that was full, so you couldn't leave a message. Also, it should be noted that I called more than once and every day. I did not get an email reply until January 3rd, and that is when my gift card was finally activated.
During this time that I was waiting, they were having a 25 percent off sale items promotion. It ended on the 27th of December. I should have been able to take part in this promotion, but was not able to because of THEIR mistake or gift card incompetence. I asked about this in my email to them, and instead of offering me a coupon code or some kind of credit to make up for that, they simply told me that there would be more sales coming up. Which, mind you, it is now the end of January and there has not been another sale like that yet. They are promoting sale prices right now, but they are the same exact prices back from December when I could have gotten the extra 25 percent off.
My order was processed in a decent enough time, I would say about 3 days, and shipped quickly. My main complaint was that customer service was impossible to get a hold of, very slow in their response time, and also not accommodating at all for something that was their own mix-up.
Now, onto the things that I chose.
Digital, Hi-Res, 3D, HD, Cyberspace, Hi-Tech
Milani 3D Holographic Collection. I love these polishes! They are opaque in 2 coats and are a beautiful, pastel shade. They remind me of Easter eggs, if Easter eggs were holo! They don't have the strongest holo effect that I have ever seen, but they are still so pretty. Also, the formula is great and they dry amazingly shiny and glossy. I could not be happier with these!
I had an urge to try some new shades of lipstick, so I decided to snag a bunch of NYX Round Lipstick colors that I thought would all be pretty different from each other. With a price tag of only $2.50, I didn't feel bad getting a bunch! These first ones were different, but you will see the following shades were all pretty similar. I didn't wear these long enough to get a good idea of longevity, but they all went on smooth, buttery and were all very pigmented. Oh, and the swatches on the Cherry Culture site are junk. If you want to buy any of these, I suggest doing a Google search for swatches.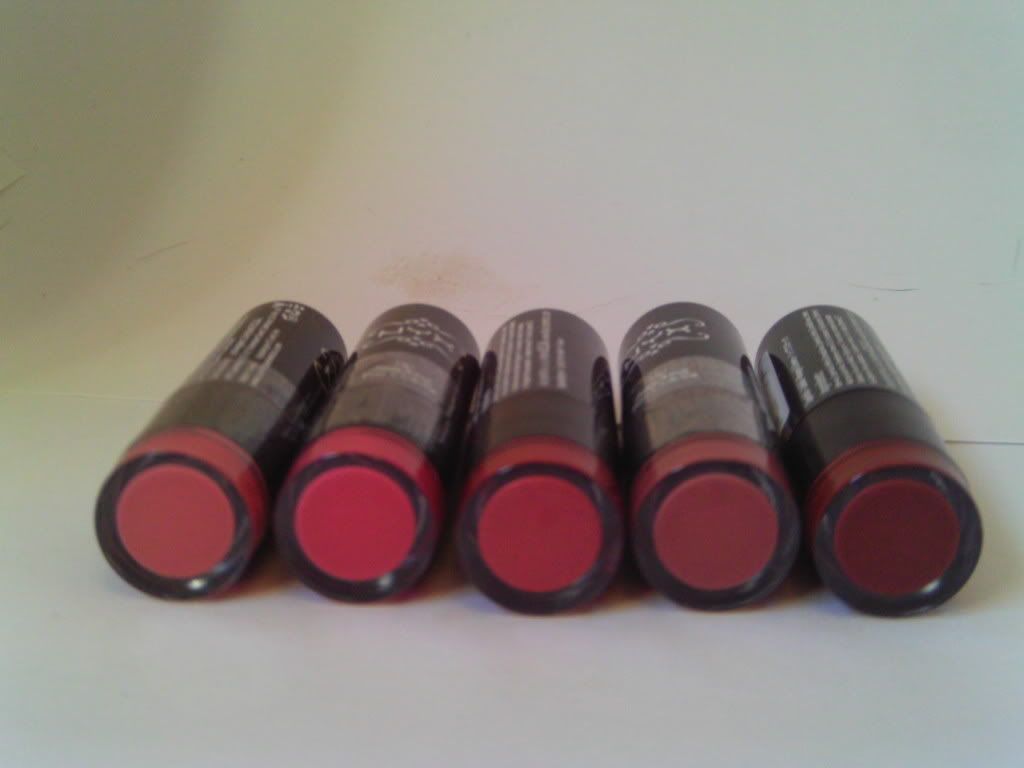 Fig, Louisiana, Hebe, B52, Raisin
Fig: This shade was my lips, but pinker. It's a very natural shade and easy to wear. It was pretty much the same tone as my lips, but just a tad more pink, if that makes sense.
Louisiana: Very bright, hot pink. Like what you would see on a Barbie.
Hebe: A deep red with subtle shimmer. This color looked really good on me. It's a great alternative for a red lip, which can look rather jarring on me.If any of you light skinned ladies want to try out red lips, I say get this one to see if you like it.
B52: Very close to Fig, but a bit darker and not quite as pink. Where Fig was my lips, but pinker, B52 was my lips, but darker.
Raisin: The only color that I didn't like at all on me. It was a very deep, brownish red. I was hoping this would turn out more on the red side, but I was wrong. It looked very goth on me...maybe once summer comes around and I have a tan, I will like this better.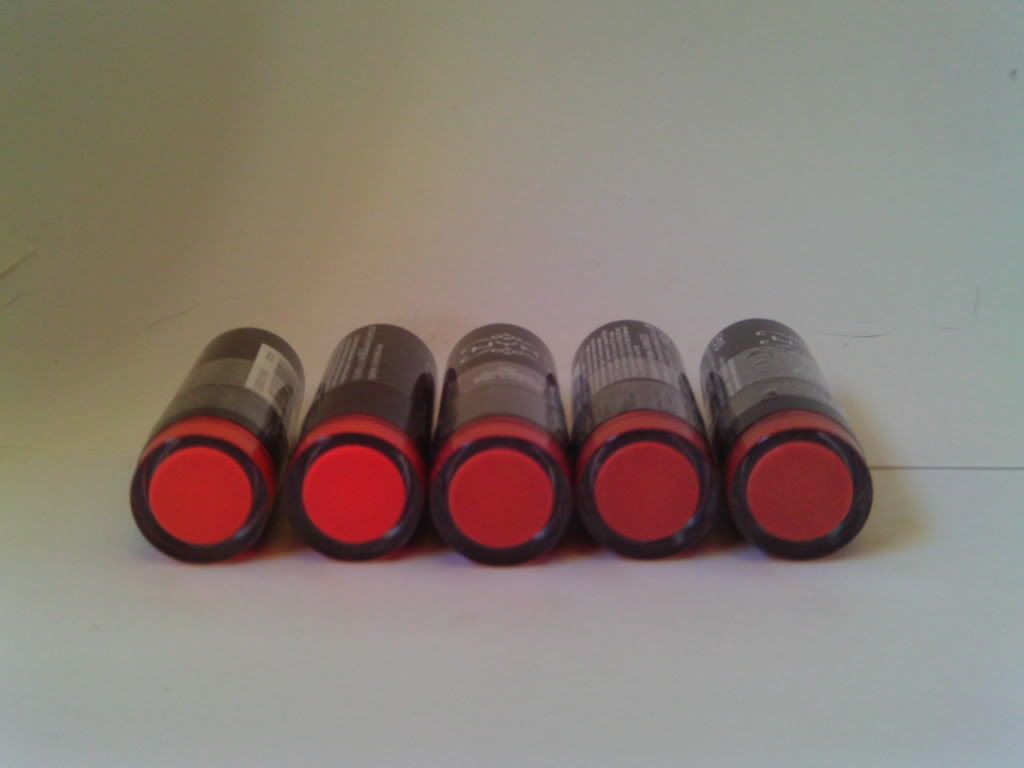 Femme, Rose, Miracle, Sunflower, Twist
Oh boy, these did not photograph well at all! They are all pretty similar coral shades, which was something I wanted anyways. Miracle, Sunflower, and Twist all had shimmer in them and I was pretty apprehensive about a 'frosty' appearance, but it doesn't really show up on the lip.
Femme: A Birgit orange-ish pink coral color. On the lip, this looks rather pink, but when held up next to a true pink, you can really see the orange in it.
Rose: Very close to Femme, but definitely a more pink/red bright coral and much less orange. The brightness is about the same, though.
Miracle: A very pretty pink coral shade. This is pretty much what I had in my head when I wanted a coral lipstick. Not too bright that it looks 80's, but bright enough to look like you have lipstick on.
Sunflower: Super similar to Miracle, but a smidge more red and a shade darker.
Twist: Almost identical to Sunflower, just a shade darker and maybe a little more orange-y tones to it.
I was VERY happy with the lipsticks. I wish some colors (Miracle, Sunflower, and Twist for example) I would have just picked one and gotten some other more unique shades, but overall I am happy. I think the only ones I won't be wearing too much are Louisiana and Raisin.. And I can only see myself wearing Femme and Rose during the summer when my skin is a bit darker and wearing some cute sunglasses. It's a bit too bright for winter months.
I also ended up with a dollar extra, so I got two Amuse eyeliner pencils in purple and green. Every now and then I want to wear colored eyeliner.
I would probably order from Cherry Culture again during a good sale, I just think I had a bad experience this time.