I figured I could splurge a little since I am finally going to have money coming in. I don't have to worry about saving extra money from this month to cover anything for next month, etc. I had to go shopping for some dress pants, shoes, and a collared shirt for work until they get me a 'work shirt'. So, of course, I picked up some polish while I was out...
China Glaze Life Preserver, Orly Bonder Basecoat, and Orly Gumdrop. I am really hoping the Orly Bonder works. I have been using gloves for cleaning and dishes, so my mani's last significantly longer, but I still have chipping issues from washing my hair or now since I am working, I know that is going to be a little harder on my nails. We'll see.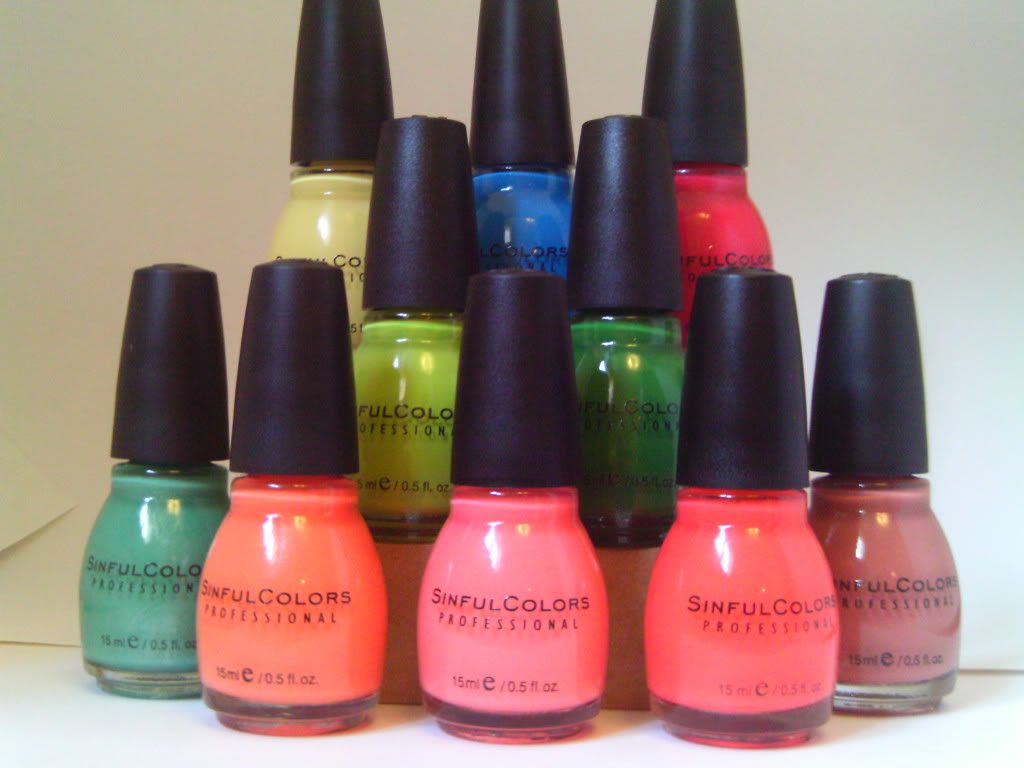 Top L to R: Unicorn, Why Not, Folly
Middle L to R: Innocent, Exotic Green
Bottom L to R: Mint Apple, Hazard, Island Coral, Boogie Nights, Vacation Time
Since Walgreen's had all SinfulColors on sale for just 99 cents, of course I had to pick a bunch up! I would have bought more, but seriously there were lots of colors that looked exactly the same, and some of the colors I just didn't like. I'm sure I will grab more when they go on sale again. lol. Eventually I will have all of the core collection. I also bought a few other shades for a giveaway I'm putting together, but I'd rather they be a surprise. lol.
I also bought a couple polishes off Amazon that I found at a good price, hopefully they get here soon!!