The end of March was super busy for me, and I forgot to go out and pick up a prize for my April giveaway. So, I figured I would let the winner pick their own prize of 4 bottles of Zoya!! Any colors you want...Fleck Effects? Colors from the new collections? Older shades that you have wanted, but never got around to getting? It doesn't matter...you get to pick your own prize!
Any polish enthusiast knows all about Zoya, their great colors, and amazing promos! Now, I am going to share the love with one of you! :)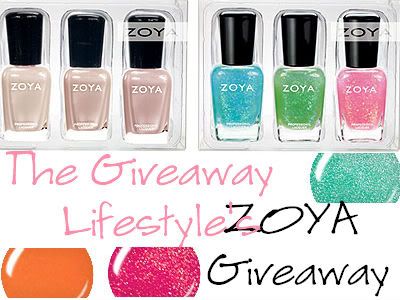 This giveaway WILL be international...If a winner is picked from the US, I will just ship the order right to them. If an international name is picked, then I will have the polish shipped to me and then I will mail it off to them! :) I figured I would make sure the International ladies can take part in this even though Zoya doesn't ship outside the US. Also, this is not sponsored by Zoya in any way. I will be paying for the polishes myself.
Rules:
No entry is mandatory, so do as many or as few as you would like.
Please enter using the Rafflecopter form below.
The prizes will be shipped directly from Zoya or from to me, then to the winner.
This giveaway is open internationally, as long as your country allows the shipment of nail polish. Any issues with customs are not my responsibility once the package has been mailed to you.
This giveaway will close on 4/30/2012 at 11:59 pm. ET.
Winner will be e-mailed and if they do not respond within 48 hours, a new winner will be chosen.
a Rafflecopter giveaway